You might wonder why a girl in her late 20s would start loving Korean stuff out of nowhere. Well, that's probably because it happened by accident.
One night, I was laying on the couch scrolling through Netflix – bored with the movies I've seen a million times, and bored with media in general – and I stumbled across a cover and a synopsis I simply couldn't ignore.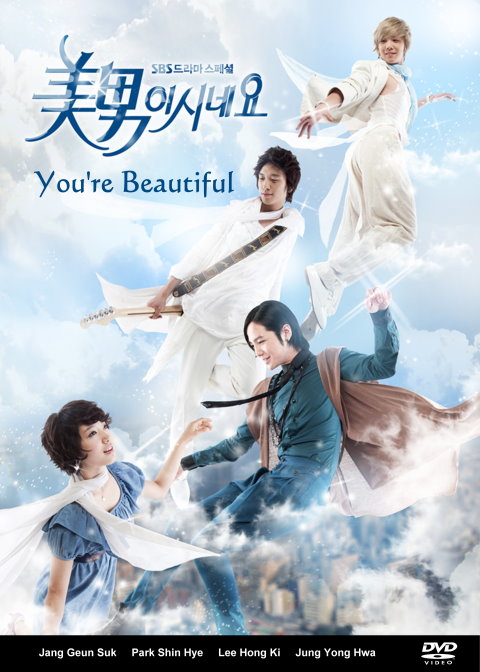 I mean, look at this shit. There's a girl with three boys flying around her, and the Netflix Synopsis reads as follows:
"Posing as her twin brother in a boy band, a young woman wins the heart of her bandmates and fans, all the while searching for her long-lost mother."
So, basically, in my little Bea-brain, I was like – obviously, I need to watch this. SO, I started the first episode and realized it was Korean with English subtitles. The opening scene focuses on a young, awkward nun (I'm serious) and is super weird and filmed in the style of a made-for-TV movie or day-time soap opera. At first I was like, "What the fuck am I watching?" But, then cheesy pop music played and super-cute Korean boys were introduced.
I didn't even know I'd be into Korean dudes, but, let's be real – THEY are the beautiful ones. Look at  Jang Geun Suk below on the left – sploosh.
Anyway, I was hooked only a few minutes into the first episode (most k-drama episodes are at least an hour long – holy shit), and for the next few weeks I basically ignored everything and everyone to finish the entire series.
I found my first k-drama to be incredibly refreshing – a different style of filming with cheesy scenarios, tons of slow pan scenes, repetitive music for "dramatic effect," a watered-down look at another culture, and an innocent portrayal of young relationships. When I put it that way, I'm not selling it very well – but, once you've had a taste of it, it's just so fun and addicting.
Needless to say, from then on I've had an insatiable desire to find new k-dramas, watch the latest k-pop videos, eat as much ramen as possible, write to my Korean penpals, and learn Korean. I also pretty much tell everyone about my love for Korea now, and I've made several of my friends equally obsessed. It's just that good.
There is so much more I can say about this drama, so, look for another post where I will discuss (gush about) it at length.
Watch the series, it's still on Netflix, and I promise you won't be disappointed. Here is a link to the first episode on YouTube: